Dean Profile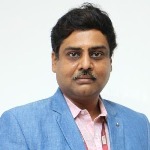 Dr. A. Srinath, Professor in Mechanical Engineering at KLEF has accomplished PhD in Robotic Mechanisms from REC Raipur (present day NIT-Raipur) in 2008. Having completing his bachelor's degree from Acharya Nagarjuna University-Guntur in 2001, he pursued his M.E. in Machine Design from Rajiv Gandhi Technological University-Bhopal in 2003.
Awards & Accomplishments
The AICTE 'Career Award for Young Teachers (CAYT)' in 2006
UGC Research Award for the period 2012-14
45th Young Engineer Award from Institution of Engineers, India, Vijayawada Chapter for guiding 8 Research Scholars to accomplish their Ph.D. goals in 2012.
NK Iyengar Memorial Gold Medal from the Institution of Engineers India in 2006
Bharat Seva Ratna Award from GEPRA-New Delhi for 2015.Biography Cited in
Handling UGC, DST and AICTE sponsored research projects on 'Medical Robots for surgical and clinical applications' worth of Rs.45 Lakhs.
Established FIST & DST Center of Excellence in Robotics and Mechatronics in 2012,.
Research papers Published in International Journals of High Impact Factor.-35
His h-Index is 7 and Citations are 135 in SCOPUS/ SCI Journals till date.
Published Twelve Patents in IPR-India (from 2012 to 2019).
Published a Book Chapter in Springer's Soft Computing for Problem Solving, 2019.