Electronics and Communication Engineering
The Department of Electronics and Communication Engineering was established in 1980-81 with an intake of 60 students. The department has been successful in producing excellent and well-trained graduates. Today we have around 3400 Students (UG & PG) and 189 faculty members drawn from premium institutes throughout India, out of which 31 Professors, 41 Associate Professors and 117 Assistant Professors. The Department of ECE has a perfect blend of eminent faculty drawn from academia, industry and research organizations. Its past alumni hold key positions in their organisations, in India & abroad. Students can choose from a number of academic flexibilities to pursue their career in a field of their interest. The programs are designed with the main objective of making students adapt to latest technologies, specializations and be industry ready at the end of their academic journey with KLU.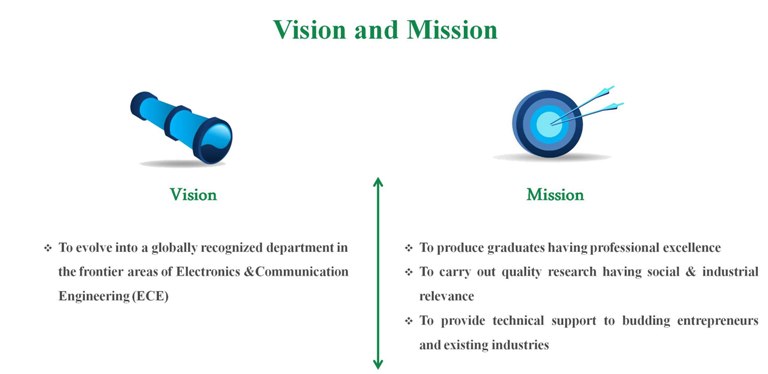 HALL MARKS
49% of faculty are Doctorates.
Curriculum has been revised in 2019 following holistic approach, integrated for all four years of B. Tech program.
The revised curriculum facilitates flexible core, enough wide range professional electives courses while ensuring connectivity and flow among the various courses.
Revised futuristic curriculum adopted enables the students for good placements in core companies as well as for entrepreneurship and research.
Teaching with Research Experienced Faculty.
State of art of the laboratories with advanced equipments.
State of the art Research Centres: 08.
Centre of excellences: 02.
2500+ research papers published in Scopus/SCI/WOS/IEEE etc
42 Government sponsored projects
1106.36 Lakhs worth of sponsored projects
16 books published by our faculty
11 filed patents
Seven women scientist awarded for the ECE faculty from Department of Science and Technology (DST).
3 young scientist awards for the faculty DST.
4 Early Career Research Awards for the faculty from DST.
2 UGC Research Awards for the faculty.
Full length courses by faculty from foreign Universities.
Project based laboratory in all core courses.
Hands-on experience on advanced tools includes Xilinx, HFSS, Mentor graphics, NI Labview, Matlab, Vivaldo, Octave etc.
Innovative teaching methodologies: Lab taken to class and Project based labs
Regular webinars for students by faculty from universities abroad and by eminent industry people.
Academics include industry centric competencies with good hands-on skilling.
Open electives from other branches of Engineering, Management, Fine Arts, and Commerce etc.
Encouraging the Peer Learning, where the students learning with and from each other as fellow learners.
Organizing Mentor-mentee programs, where the students can mentor with Industry experienced skilled persons.
Implementing the Self Learning concept. It is an option for students to get exempted from class attendance where they can pursue their interests during those hours either by working on Elite Coding, Entrepreneurship, Projects, Research, and Peer Mentoring etc.
Design & Build (DB) technical talks with industry experts.
Design and Build workshops such as IOT Visistatha, Silicon Mantra, Kreativ Ezee etc.,
Active collaboration with International Universities and R&D organizations.
Technology enrichment through certification programs.
100% placement for eligible and registered students.
Students become members of Professional Societies such as IEEE, IET, IETE, ISTE etc.
International research collaborations with OSMC Linkoping University, Sweden, Tyumen Industrial University, University of Tehran etc.
Conduction of regular co-curricular activities including seminars, guest lectures, webinars, group discussions, skill development courses, mock interviews etc.