KL Women''s Forum Literacy Programme - Empowering illiterate women.
International Literacy day - 8th September 2012
K L U Women's Forum conducted inaugural function of the literacy programme on the occasion of International Literacy Day ( 8th September 2012). Following are the details.
No. of Participants: Around 100 illiterate women from near by villages of KL
Venue: Jasmine Hall, K L Deemed to be University
Time & Date: 3.30 pm to 5.30 pm on 8th September 10, 2012
Purpose: To motivate the illiterate women towards education by bringing awareness on the necessity of education and inform them about the action plan of literacy program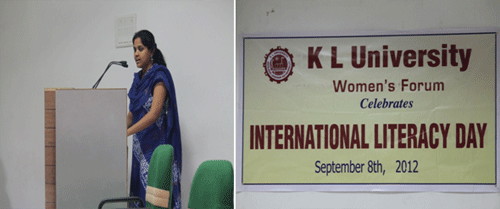 Programme started with a formal inaugural function at 3.30 pm. Dr.G.L.Datta, Hon'ble Chancellor of K L Deemed to be University, Dr.N.Rangaiah, Registrar of K L University, Mrs.S.V.N.L.Lalitha, Convener of KL Women's Forum and Mrs.M.Sreedevi, Co-convener of KL Women's Forum participated in the event.
Mrs.Lalitha welcomed the participants to the Literacy Programme and informed them about the purpose of the programme. She explained the literacy programme planned by KL Women's Forum to enable the illiterate women to read and write on their own. Each of the participants will be assigned with a member to educate them in learning the minimum requirements.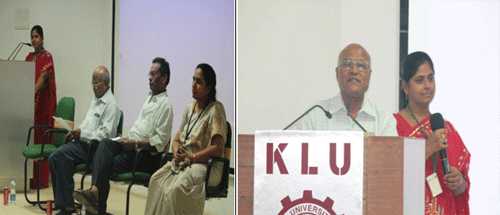 Dr. G.L.Datta gave the definition of literacy as "A person is said to be literate if he/she can read, write and do some simple arithmetic calculations on their own". He motivated the participants giving the statistics of literacy rate in India with an emphasis on Andhra Pradesh.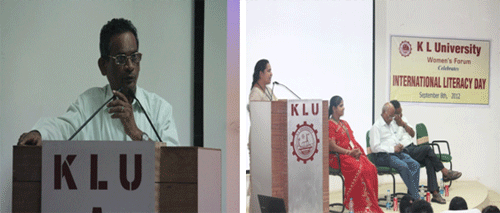 Speaking on the occasion Dr.N.Rangaiah insisted on the importance of minimum knowledge of reading and writing to every person to be self sustained. He emphasized that every member of the teaching, non-teaching and student community should take necessary steps to eradicate the illiteracy around KL Campus.
Later Mrs.Sreedevi proclaimed that KL Women's Forum is dedicated to improve the literacy rate around KL Campus in the coming years. She asked all the participants to spread this through out the other members of their respective villages. The first task of the literacy programme is to enable every participant be able to put their signature instead of a thumb impression.

Education tool kits comprising a pen, pencil, eraser, sharpener, books etc were distributed among all participants. All participants received the function very well and participated enthusiastically. Some of them shared their experiences and thanked the organizers for coming forward to conduct such useful programme.
Students gave a power point presentation on the need of child education and adult education. They reiterated that every one of the participants must take part actively in acquiring the primary education and avoiding child labour. Presentation covered important government initiatives to promote literacy among uneducated people.
Some interesting games were conducted to the participants to bring out their analytical and memory skills. All of them participated enthusiastically and prizes were distributed to the winners.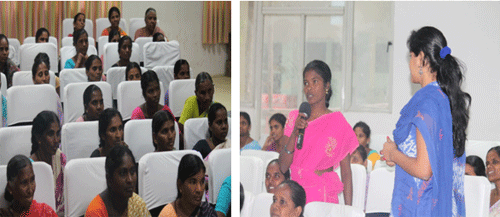 Finally the inaugural function concluded with a request from the convener to all the participants seeking their involvement stating that, "This is just the inaugural function and a lot more to go to achieve; to improve the literacy rate around our KL campus. KL Women's Forum invites all suggestions & improvements in this regard".