KL Women's forum conducted HEALTH AWARENESS PROGRAMME on 19th December 2013.
KL Women's forum conducted HEALTH AWARENESS PROGRAMME for the Girl students on 19th December 2013.
| | |
| --- | --- |
| Resource person | Dr.Padmashri M.B.B.S, MD. Specialist in Uro and Adolescent Gynecology, Manipal hospital, Vijayawada |
| Venue | Peacock hall |
| Date | 19th December 2013 |
| Time | 3.00pm to 5.00pm |
| Coordinator | Mrs.S.V.N.Lalitha |
| No. of Participations | 350 girls students |
| Topic | Adolescent Gynecology |
The Programme started with a welcome note by Mrs.S.V.N.L.Lalitha, Convener of KL Women's forum. She briefed the students about the activities of K L U women's forum and motivated the students to take part actively in "saheli" activities.
Ms.Ramya, 2nd year EEE introduced the resource person to the gathering. Dr.Padmashri gave a power point presentation on the topic of "Adolescent Gynecology".

She has explained about different health problems faced by the girls. She has described the reasons leading to gynic disorders and also suggested the possible remedial measures to be adopted. She has also discussed about the emotional and physical problems from which the adolescent girls generally suffer. She has cautioned all the girls to take proper medical treatment without neglecting the poly cystic overy deficiency syndrome.
She emphasized that obesity, acne and pigmentation problems should be properly diagnosed. She said that, if these problems are due to PCOS, then medical treatment alone can solve these issues.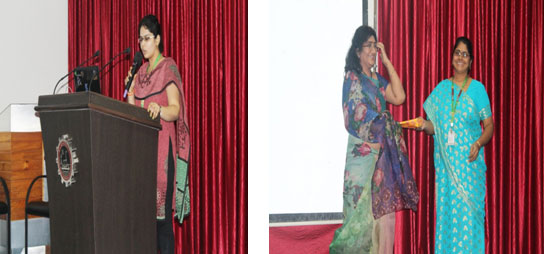 All participants appreciated the programme. They said that they have realized the importance of medical care for Gynic disorders and proper diagnosis. There was an interactive session in the end where the girls raised many doubts and Dr.Padmashri answered all of them. Ms.Sony of 2nd year EEE proposed vote of thanks at the end of the programme.