Workshop on "K L Deemed to be University Policy against Sexual Harassment at work place"
K L U Women's forum conducted a half day workshop for the benefit of K L U female employees.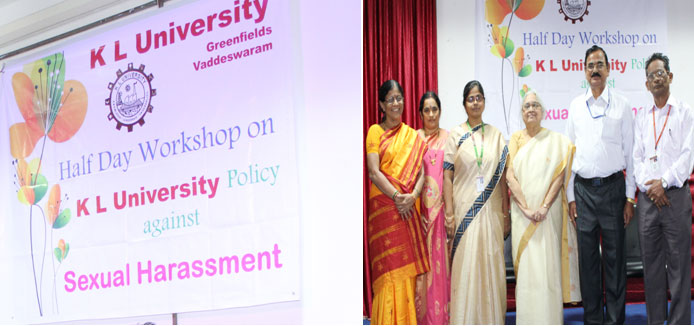 Topic
K L Deemed to be University Policy Against Sexual Harassment At Work Place
Venue
Peacock Hall, K L Deemed to be University
Date
16th January 2014
Time
2:30pm To 5:00pm
Chief Guest
Dr. R.Sree Hari Rao, Vice Chancellor K L University
Resource Persons
1) Dr. N. Rangaiah, Registrar K L University
2) Mrs.Chennupati Vidya, President, Vasavya Mahila Mandali, Vijayawada & Ex - Member Of Parliament
Organizers
1) Mrs. A.Lakshmi Prasanna, President,K L U Women's Forum
2) Ms.S.V.N.L. Lalitha, Convenor,K L Uwomen's Forum
No Of Participants
All Female Employees Of K L Deemed to be University
The work shop started with a prayer song by Ms. Smitha Grace and Ms. Prasanna. Ms.S.V.N.L. Lalitha convenor, K L Deemed to be University Women's Forum gave the welcome note and briefed all the participants about the purpose of the work-shop. She has also informed about the activities of K L U women's forum to the audience.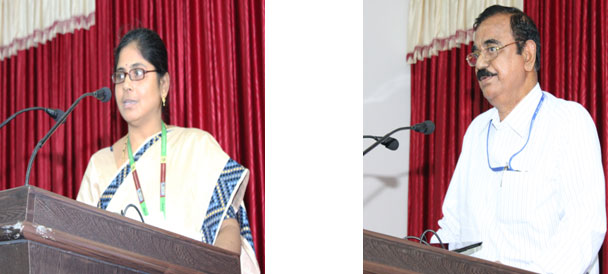 Dr.R.Sree Hari Rao, Vice Chancellor, K L Deemed to be University encouraged all the female employees to be confident. He adviced all participants that they must come forward actively when ever situation demands their participation. He assured that
K L Deemed to be University will always extend its full cooperation to any needs of their employees and especially to the female employees. He said that all measures have been taken to provide a safe working environment for the female employees in KL He said that "Human values" cell has been established in the University to include moral values in the students and every student of K L U will take a course in this aspect.
Ms.Chennupati Vidya, President, Vasavya Mahila Mandali Vijayawada addressed all the participants. She has motivated all the members to come out of all their inhibitions to speak out their problems. She said that a majority of problems faced by women can be easily solved with a small initiative from them. She has urged all the women to be bold enough to realize the injustice happening to them. She has pointed out that there is a marked difference in the way the children are being brought up in the houses. She has emphasized the need to give equal priority to both male and female children.
She reiterated that house hold work must be equally shared by both males and female members of the family. There should not be any discrimination while assigning house hold works among daughters and sons.
Mrs. Vidya congratulated K L Deemed to be University for organizing such a useful and essential programme for their employees. She has suggested that more no of such events may be conducted and the male employees also may be included.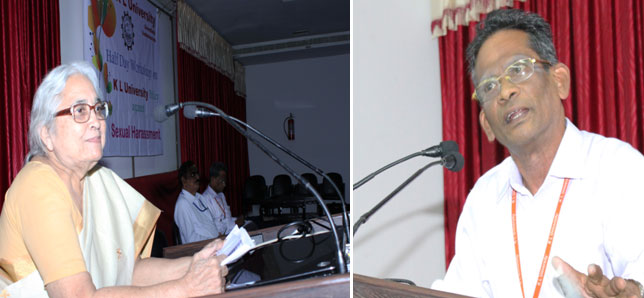 Dr. N. Rangaiah, Registrar, K L Deemed to be University enlightened the participants with his vast experience in the field of law and justice. He quoted several examples from the past to present, where female employees were subjected to sexual abuse and he described how boldly some ladies fought against the injustice. He inspired all the members to understand the spirit with which those ladies have fought and are still fighting against the highly powerful opponents such as a Supreme Court Judge and a very famous "Tehalka" Editor in-Chief .
He said that the surveys show that they are at least 40 percent of the employed women, who get subjected to sexual harassment in one form or the other.

He has explained the Visakha guidelines given by the Government and narrated all the actions which can be treated as sexual harassment. He has discussed at length, the procedure adopted in such cases. He has informed all the members about K L U policy against sexual harassment at work place. He said that university has a perfect functioning mechanism to deal with the cases of sexual abuse. He said that strict confidentiality will be maintained in such cases and the accused will be subjected to disciplinary action based on the extent of allegation proved. He said that stringent action will be initiated if anyone is found guilty of committing a mistake.
Dr. Rangaiah explained all the legal procedures and has thrown light on the unavoidable delay that takes place in getting the justice. He quoted that "Justice delayed is justice denied". He assured all the participants that K L U will not retaliate against an individual who makes a report of sexual harassment, nor will permit any supervisor, officer or employee to do so. He suggested all the members, that they can feel free to report their problems and they will be solved.
He has educated all the members about the "recent Act on Sexual Harassment at work places" and also briefed about some provisions of "Nirbhaya Act". His speech was highly informative and inspiring. He has read out the names of the "internal complaints committee "of the University.
A copy of "K L Deemed to be University policy to curb/avoid sexual harassment" has been distributed among all the participants. It also contained the names of the committee members of "committee against sexual harassment" who deal with the complaints of Sexual Harassment at the university level.
Some of the participants shared their opinion and expressed their concern about this issue. Ms.Tirumala, staff member of K L U appreciated the programme and suggested that a website may be opened, where the members can report their problems. Ms. Vidya opined that, it may be difficult to maintain the privacy if it becomes a public platform like face book. Another participant suggested that male employees must also be included as participants in such meetings as they also need to get educated.
As a taken of gratitude a memento and shawl were presented to the resource persons Mrs. Chennupati Vidya and Dr. N.Rangaiah. All the members appreciated the programme and then it ended with a vote of thanks by Mrs.Lalitha.