K L Deemed to be University was awarded with 'Creative Institute Award' for NCAT 2015 for outstanding performance of its students.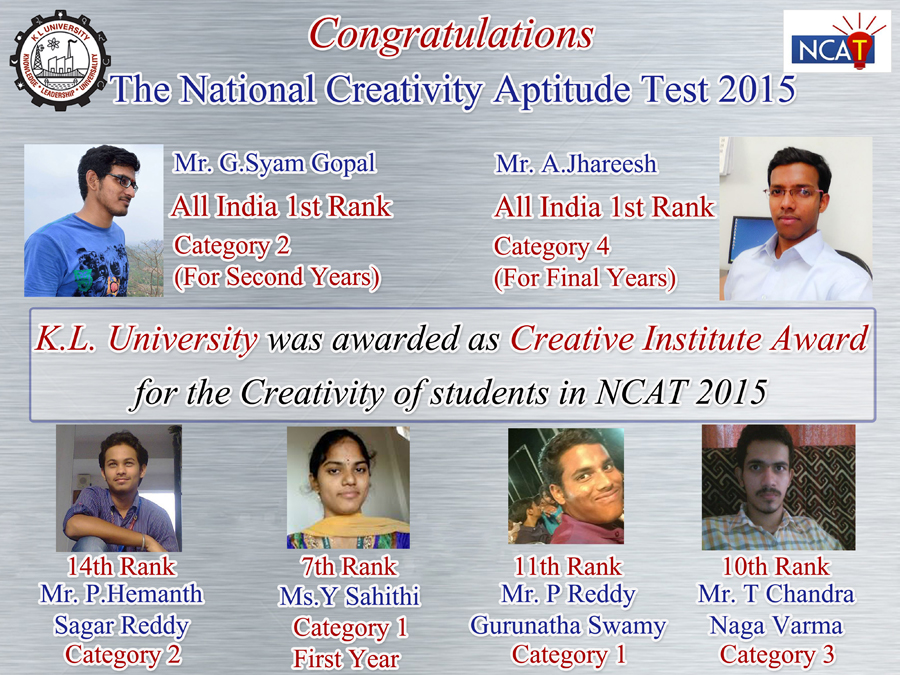 National Creativity Aptitude Test 2015(NCAT-2015)(ALL INDIA LEVEL APTITUDE TEST), International Forum Of Excellence In Higher Education , DELHI And Lalit Jonwal , HEAD , NCAT, PRESIDENT IFEHE congratulated K L Deemed to be University students for incepting seed of creativity in their mind, which will go a long way in shaping their careers and will make them stand out in every stage of life.
NCAT -2015 Was Promoted Under The Banner Of KL GYE (KL Globe Of Young Engineers) In K.L.University. KL GYE professor Incharge Mr. D S Ram Kiran, Assoc Prof, ECE Dept and Co-Ordinator Mr. K Phani Srinivas congratulated students on their for getting All India ranks and also making KL to get creative institute award .
K L University President Er Koneru Satyanarayana Garu , Vice President Koneru Havish And Koneru Raja Harin , Chancellor , Vice Chancellor Dr. L.S.S Reddy, Pro VC Dr.A.V.S Prasad , Registrar, Principal Dr. Anand Kumar, Dean Academics Prof N. Venkatram , Dean Student Affairs Dr. Habibulah Khan , congratulated students on their success, Also ECE HOD Dr A.C.S Sastry , CSE HOD Dr. V Srikanth and various Heads of The Departments appreciated the students for their success in Ncat-2015.