First ROBOTRONICS CLUB meeting on 19th of February, 2014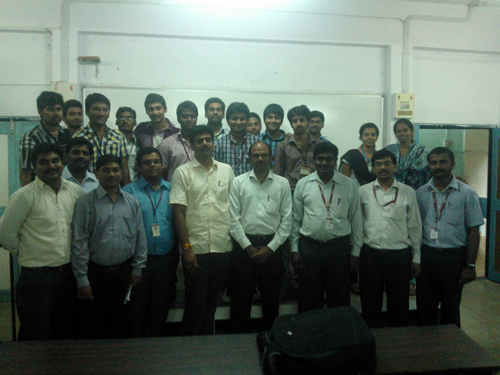 MINUTES OF FIRST MEETING
As decided well in advance, all the members both staff and student members who've registered to "Robotronics" club have assembled to discuss about the motives, Agenda, and the working plan of the club on 19th of February, 2013.
Dr. A. Srinath addressed all the members.
Discussion:
Dr.A.Srinath explained the motive of the club being: Technical Problem solving those are related to the society. We attempt to solve these problems initially at university level and later on contribute it to the society. Also, for the better understanding of the students many case studies and industrial drives would be planned.
The Way Forward:
To represent the student members Office Bearers were elected from amongst the interested students.
President: Rishi.K-10101866-Mech-3/4
Vice President(s): 1.Prudhvi Raju.M-10101482-EEE-3/4
2. Chaitanya. N.V.V.K-10101692-Mech-3/4
Secretary(s): 1. Nava Teja.K-10101802-Mech-3/4
2.Nuthwin. P-10101813-Mech-3/4
Treasurer: Saikiran Naidu-10101879-Mech-3/4
Core Team:
Skandhamitra. T-10101929-Mech-3/4
Sai Kasyap. N.V.S-10101878-Mech-3/4
Sarvesh.P-10101910-Mech-3/4
Sai Veer. B-10101900-Mech-3/4
Naga Lakshman.M-10101790-Mech-3/4
Gnana Deep.G-10101714-Mech-3/4
Vijaya Rami Reddy.BH-11005078-ECM-2/4
Divya. S-11005095-ECM-2/4
Bhavani.S-11005171-ECM-2/4
All the future projects will be done on the members' own interest.
All the club members have decided to assemble to discuss about their ideas or on the given assignments, on every Wednesday.